Motorola TLK100 Cellular push to talk radio
WAVE™ TWO-WAY RADIO
RAPID, RELIABLE DEPLOYMENT. USE NATIONWIDE ON THE WAVE WIRELESS SERVICE.
Combine the broad coverage of a nationwide cellular network with the ease of two-way radio communications. The rugged WAVE two-way radio gets your team connected fast.
Key Features:
Over-the-air device management
Powerful and slim design
Wi-Fi connectivity
Location tracking
Battery lasts full shift
Loud and clear audio
Private and group push-to-talk
Real-time presenceSpecifications
Network: 4G LTE
Channel Capacity: 8 channels (expandable to 96)
Dimensions: 6.65 x 2.31 x 0.87 in (168.9 x 58.6 x 22.15 mm)
Weight (with battery): 5.86 oz (166g)
Battery (Li-Ion (2300 mAh) Battery): 18 hours 5:5:90 Duty Cycle
GPS: GPS/AGPS
WiFi: 802.11 a/b/g/n 2.4/5.0 GHz
IP Rating: IP54 MIL-STD 810G
Powered by: WAVE OnCloud
Works the way you do
Nationwide push-to-talk
Fast track productivity with a nationwide push-to-talk network that powers the quickest push-to-talk setup and call times.
Built for the job
Purpose-built for business, everything about the WAVE radio is smart and intentional. Whether it's location tracking and Wi-Fi calling, or the rugged design without an attention-diverting screen.
Smartphone or WAVE two-way radio:
The clear choice, hands down.
Stay safe while on the road. One button push-to-talk makes it easy for employees to connect. Because they don't have to unlock it to use it, the WAVE radio is ideal for situations when every second counts. And without a screen, employees stay more focused—no apps, texting, or dialing.
Lower your cost of ownership and eliminate IT headaches with less to break, fix or maintain. With the WAVE radio, your team has everything need. And nothing they don't.
Traditional two-way or TLK 100:
It's radio and then some.
Unlike traditional radio, there's no costly upfront investment required. A month-to-month plan keeps costs under control. You don't have to worry about unknown replacement costs, either, because Motorola will replace any WAVE radio that's accidentally damaged.
Managing your fleet is simple, since you can deliver updates over the air without needing to touch a single device or handle any radio programming cables. Modify your talkgroups remotely and in real-time without having to call customer service.
Simple fleet management:
Single click, hours saved.
Whether you're managing 10 devices or a fleet of 10,000, minimizing administration time can save your business a ton. WAVE makes management simple, because every WAVE device includes built-in capabilities with the cost of your subscription. So you can change talk groups, modify device names, add Wi-Fi credentials, or disable devices—all in seconds, not hours—without touching a single device.
WAVE devices keep communication simple and quick, so you can focus on driving business results.
Questions and answers:
What cellular network does the WAVE two-way radio utilize?
Customers will not need to worry about subscribing to a specific carrier network. They will subscribe to Motorola Solutions' WAVE wireless service, which leverages the nation's best carriers for service. Devices are on the Verizon network

What is WAVE?
WAVE OnCloud is a push-to-talk subscription service from Motorola Solutions. It connects teams at the push of a button across different networks and devices. It eliminates the barriers between devices, networks and locations to let everyone be part of the conversation.
When is the device available? Now
Where is it available? Here
What is the cost?
The pricing varies depending on 1) the subscription selected: pay-as-you-go (monthly) or a twoyear contract, and 2) the number of devices ordered. The retail price for the radio is $350, and the subscription services range from $35 to $45 per month. Participating dealers may offer the device for free with a two-year contract.

What types of businesses will use the WAVE two-way radio?
It will be highly useful to medium- and large-sized businesses with task-oriented workers who require constant, daily communication with dispatch or management. It also will be helpful for industries with field services where tracking vehicle locations and ongoing communication with field teams is essential for business operations. This may be especially applicable in industries such as private security, construction, manufacturing, retail, and transportation and logistics.
Why is Motorola Solutions offering such a simple device given all the features available with LTE smartphones?
Growing feedback from customers indicates that smartphones are challenging to use in certain work environments. Employers in certain industries want to provide their workers with devices that do not require log in, have a single button for push-to-talk, have loud speaker volume, are durable and have long battery life. They also are looking for ways to reduce the distractions that can come with smartphones — like texting friends and surfing the internet — while improving employee efficiency for task work. Aligning the right tools based on worker roles is essential for business success.
How does this device stack up against competitive offerings?
Reliability matters for businesses, and Motorola Solutions' WAVE two-way radios offer quality hardware, the industry's best push-to-talk software and the nation's best cellular coverage. Easeof-use and the ability to self-configure a fleet of devices allows for quick deployment and scalability. How does this radio align with Motorola Solutions' larger portfolio? WAVE two-way radios complement Motorola Solutions' traditional Land Mobile Radio (LMR) offerings, which are focused on communication on-site or through regional systems. WAVE two-way radios meet customers' needs for "wide area coverage" — across the country or across thousands of facility locations. All WAVE two-way radios also can be integrated into supported MOTOTRBO systems to extend communication between traditional two-way radio systems nationwide. Other product details Why is the device called a two-way radio if it works on a cellular network? The device has a traditional two-radio form factor and does not have telephony capabilities. Will this device work on other cellular networks? No. WAVE two-way radios work only with Motorola Solutions' WAVE wireless service.
Does the radio have a SIM? Is it removable?
The radio has an embedded 4G SIM. It is permanently attached to the device to prevent it from being stolen or removed, which could impact business productivity.
Can the radio be used as a Wi-Fi only device? No. While the radio can function without LTE coverage by connecting to Wi-Fi, it requires a service plan to operate. Will Motorola Solutions be providing a mobile version? Motorola Solutions is creating a larger roadmap of WAVE two-way radio devices, and a mobile variant is being considered. A hands-free vehicular kit will be available later in 2018.
Can talkgroups and contact lists be customized? Yes. The WAVE OnCloud portal allows both partners and customers to program and configured devices remotely.
Is the radio able to work as a conventional radio? While the radio does support private call capability for 1-to-1 communication, it does not contain traditional conventional land mobile radio capabilities. It uses a cellular SIM. What MOTOTRBO™ systems are supported? Capacity Max, Capacity Plus and LCP are supported today. Connect Plus is on roadmap for consideration. How can a business owner get started with the new device?
---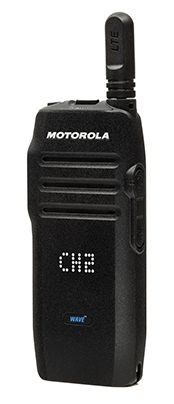 Showing 1 to 2 of 2 (1 Pages)